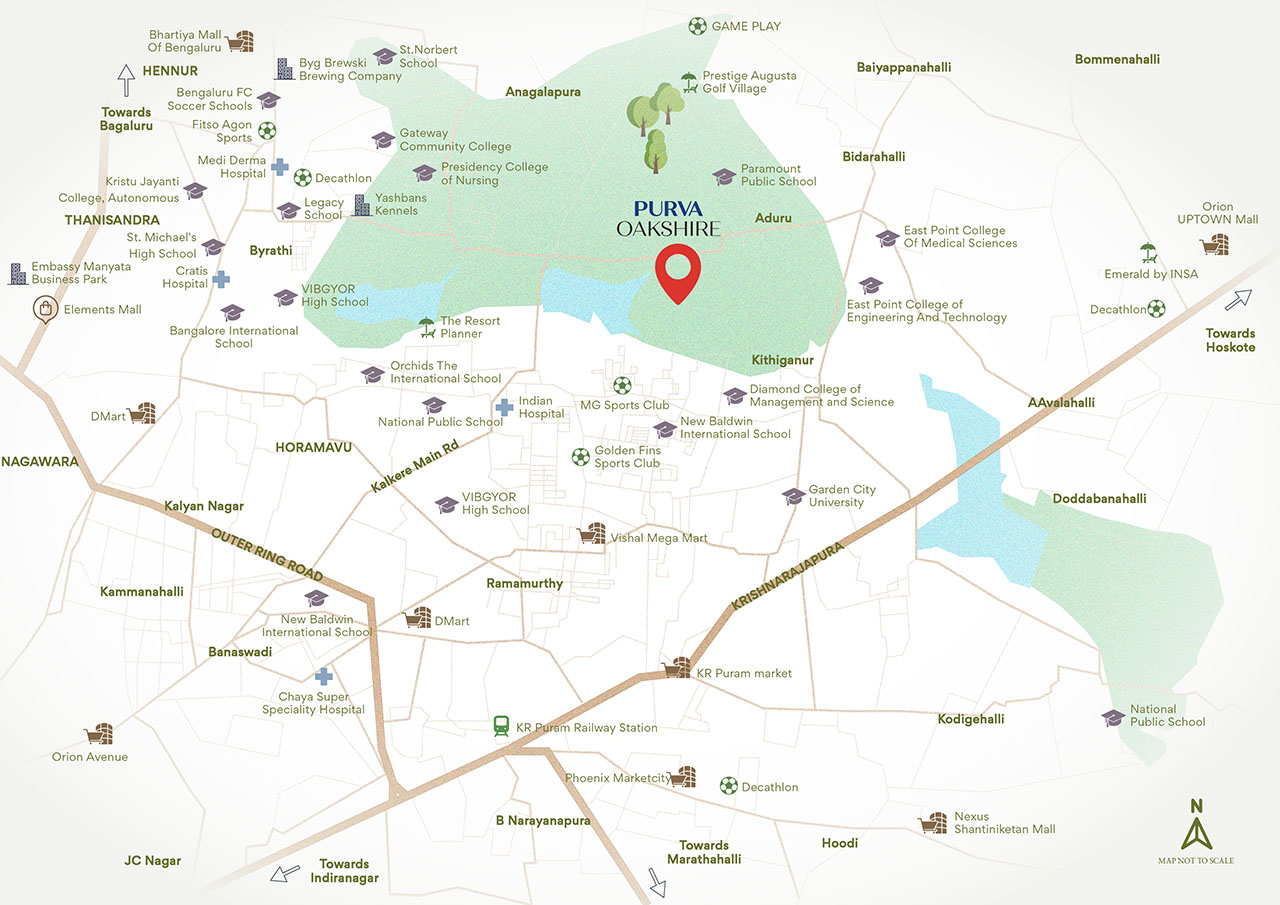 Purva Oakshire is a residential project located in Bangalore, India. It is developed by Puravankara Group, a well-known real estate developer in India. The Project offers a range of amenities such as a swimming pool, gym, clubhouse, children's play area, and 24-hour security. The apartments are designed to provide spacious and well-ventilated living spaces. Purva OakShire Location is Rampura, Off Hennur Road, North Bangalore. The Project offers plots in various dimensions: 30X40, 30X50, and 40X60. Rampura is a neighborhood located in Bangalore, India. The area is known for its peaceful and serene surroundings, making it a popular residential choice. It has good infrastructure and transportation connectivity to other parts of Bangalore.
Additionally, the area has several amenities, such as supermarkets, hospitals, schools, and recreational parks. The real estate market in Rampura has also been growing steadily in recent years, attracting more people to invest in the area. Overall, Rampura is considered an excellent place to live in Bangalore. Rampura is a well-connected neighborhood located in the central part of Bangalore, providing easy access to other parts of the city. With the area's growth, the infrastructure and facilities in Rampura are being improved, making it a more attractive place to live. Due to its prime location and growing infrastructure, Rampura has good rental potential, making it a good investment option for people looking for rental income. Rampura is known for its peaceful and serene surroundings, providing a suitable environment for families and individuals looking for a quiet place to live. Location plays a vital role in plot investments. Rampura is one such area to look for when purchasing a property. The Rampura area of North Bengaluru is a mixed location situated in a hotspot address with excellent connectivity. Bangalore is one the most prominent cities of India, which is a lovely home for lakhs of migrants from all over the nation. Bangalore is a favorite city for its delightful weather conditions, work opportunities, community living areas, and entertainment centers. When we look at the residential realty market, Bangalore tops the list with some excellent localities and projects impressing home buyers.
Rampura is an actual location in North Bangalore, witnessing phenomenal growth in all sectors, and has become the following residential and commercial destination. The area perfectly blends upscale social amenities and physical infrastructural frameworks. The locality is well linked to the city's significant hubs like Electronic City, Whitefield, Koramangala, and Hosur Road. It is a trendy residential area in the city's northern region. With the expansion of affluent individuals and middle-class society, Purva OakShire's address offers a unique and lavish lifestyle with all modern comforts and facilities. One can have amenities, uniqueness along with facilities within Purva OakShire. The brilliantly designed living plots look luxurious and fit into the budget of every individual. The independent metropolis has all the modern amenities and brilliant areas. The metropolis has a rich cultural heritage and an incredible history that significantly adds to the city's standard of living.
Bangalore is one of the major cities in Karnataka, and its importance makes it the best place to invest if you are searching for a residential property. Prices of plots in Bangalore are suitable for the preferences and requirements of every person. A gated community project with staff at all times is one of the finest things about residential property and a great thing to look at when buying here. Investing in Purva OakShire provides financial security, a platform for profit growth, and an additional income source as needed for retirement. Investing also helps us save money and earn more while achieving various things in life. Many options for investing provide good security and excellent returns, but one of the most profitable investments is buying a plot in Purva OakShire. With its prime location, stunning architecture, and premium amenities, this development is the perfect choice for those looking for the best in city living. Whether you are looking for a new home or a perfect property, Purva OakShire is the ideal choice for you. This place is also home to many recreational epicenters. The southeastern region of Bangalore draws many buyers and IT institutions looking at mid-range locations. This plotted Property has attracted IT and young workers looking for budget housing near their offices. This new plot in Bangalore's North zone has a development size proposed spread across massive acres of total land.
The Purva Oakshire Plots offers plots alongside estates spread over vast acres. This elegant, extensive, plotted development with a varied blend of homes will have a launch date to be announced soon. Purvanakara is the best real estate developer in India. It is an established real estate developer in the real estate market. This best builder in the city has launched many essential projects in Bangalore. Purva Oakshire is one of those prelaunch projects. Hennur Road in North Bangalore is a fast-growing real estate junction with many tech parks. The benefit of putting resources into properties is the extent of property appreciation and the freedom to buy and redo the space. Found unequivocally at Hennur Road, land appreciation prices make one sure to shoot through the rooftop. Rampura is a famous area of Bangalore in Karnataka. This part of the town has many best plot options. The site comprises the significant IT network of the town, hiring many workers. New launches in Rampura are fast selling.
Buyers will soon experience the pleasure of their new living residence in the Project's plot units. Inhabitants will be subject to Purvanakara control. This prelaunch plot is located in the hotspot area of North Bangalore. Hennur is a famous housing area with IT and business centers for its pleasant atmosphere. Schools, colleges, hospitals, malls, ATMs, shopping hubs, and theatres are ideally located. Purva OakShire Plots is a project built on extensive acres of land, and it consists of stunning plots spread everywhere. Builders always complete their work considering Location as the primary factor. Undoubtedly, Rampura is the best Location. The Purva OakShire Plots offer awe-inspiring lands, perfect for your captivating dwelling. The property is brilliantly designed with innovation as the primary factor amid greens and breathtaking views, which spells luxury, matching the preference of every aspiring modern dwelling buyer. Purva OakShire Location Map will be available soon.
Frequently Asked Questions
1.
What is the location of Purva Oakshire?
The upcoming project is at Rampura, North Bangalore.
2.
How far is Purva Oakshire from Bangalore International Airport?
The project is 9.8 km from the Bangalore International Airport