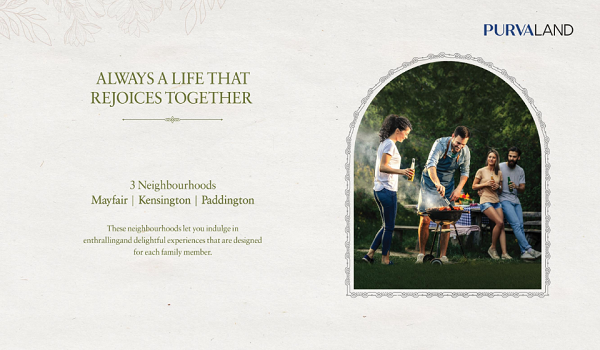 A brochure of any famed realtor exactly portrays what the real estate property will encompass in detail, both inside and outside the project periphery. It enables potential buyers to pinpoint their area of interest and study the property in depth to analyse whether it is viable for purchase. It is, therefore, mandatory that the builder details what its property has to offer. The reputed builder, PurvaLand, Purvankara's plotted development arm, has launched a lavish plotted development, Purva Oakshire, in Aavalahalli Main Road, Rampura, East Bangalore. The project is under construction; it was launched in February 2023 and will be completed by December 2026. Purva Oakshire brochure entails all the details pertaining to the property and is available online and offline. Interested investors can get their hands on the brochure and study it.
Purva Oakshire brochure will have the following details:-
Location of the Project: In-depth details of Aavalahalli Main Road, Rampura, and nearby places with a map
Area of the Property: Total area of the property
Builder Information: In-depth information about the realtor
Plot Details: Different types of plot sizes, layouts, etc.
Master Plan: Two-dimensional bird's eye view of the project
Amenities: Various amenities, facilities, and conveniences available
Specifications: Property specs details
Contact Information: Booking-related details fn contact of the developer
Set on 34 acres, Purva Oakshire boasts of 175 plots with English Country Themed Layout, ranging from 556 to 3424 sq. ft. with residential and commercial plot options. Townhouse Plots (556 sq. ft.), Villa Plots (1058 to 1306 sq. ft.), Bungalow Plots (1362 To 1574 sq. ft.), Mansion Plots (1822 to 1949 sq. ft.), Estate Plots (2254 to 3424 sq. ft.) and Commercial Plots (2362 to 2648 sq. ft.) are the varied kinds of plots Oakshire offers.
Purva Oakshire amenities are thoughtfully chosen and have a perfect blend of leisure amenities, facilities, and conveniences. 6 Acres Of Lush Green Open Spaces, 30+ Modern Amenities amid rich and diverse flora and fauna, and majestic ambience, a Luxury Clubhouse which includes a Fully Equipped Gym, Tennis Court, Mini Golf Putting, Forest Trail, Cricket Pitch, Multi Sports Court, Outdoor Gym, Amphitheater Style Seating, Party Lawn, Organic Garden, Flower Garden, Tree Court, Senior Citizen Park, Bicycle Trail, Picnic Lawn, Yoga, and Meditation Zone, Skating Rink, Children's Play Area, Meditation Court, Hammock Garden, Crèche, Multi-purpose Hall, Board Games, Pet Park, etc. are offered here to pamper the residents.
Purva Oakshire is situated in Rampura, East Bangalore. The plots nestle on Aavalahalli Main Road, which has many benefits. Physical and social infra is strategically planned here. Seamless road services to the rest of the city, avenues for employment, education, shopping, healthcare, banking, dining, entertainment, hospitality, grooming, housing, etc., are all in and around the neighbourhood. Purva Oakshire residents will comfortably access Bangalore International Airport and Ring Road. The residents will enjoy proximity to Hoskote, Yelahanka and Hebbal, Horamavu, HBR Layout, Kalyan Nagar, Kasturi Nagar, Thanisandra, etc. IT hubs like Manyata, Ecopolis, and ITSEZ are close by, and reputed educational institutes within a 2 km radius, including the hospitals. Purva Oakshire brochure will categorically highlight all these details and more about the property so buyers can comfortably plan their purchase.
Puravankara Developers Blogs